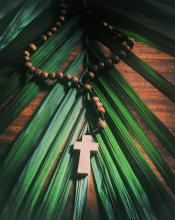 Some years ago, Carl Jung told the story of a man who asked a rabbi why God was revealed to many people in days of old, but now nobody sees God.
"Why is this?" he asked.
The rabbi answered, "Because nowadays no one bows low enough."
Perhaps we are looking for God in all the wrong places. In this video, Sister Margaret goes to prison. She is not Jesus. She is not God. But she believes God is there in Riker's Island, "home" to 1300 prisoners, half of them teenagers. She listens to their stories.
"My father walked out on us ... I messed up ... I had no one to back me up."
Their stories changed her. 
"I don't know what it's like not to be loved. I don't know what it's like to be abused, to be abandoned," she says.
She is really saying, "I didn't know before what it's like to be so far down."
These prisoners are teaching her even as she is counseling and encouraging them. Those men in Riker's Island would probably be surprised to hear that Paul was a prisoner when he wrote this week's lectionary selection, a letter to the Philippians.