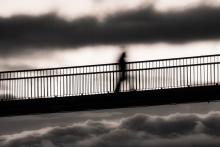 So much of Christianity has become about avoiding hell. But if there's one thing I've learned as a hospital chaplain, it's that God is sending Christians straight to hell.
Christians need to stop thinking of heaven and hell as primarily places we go after we die. Heaven and hell are primarily realities that we experience here on earth.
Jesus said, "the kingdom of God is among you." For Jesus, the kingdom of God, also known in the Gospels as the kingdom of Heaven, is a present reality. You don't have to wait until after death. In fact, you shouldn't wait because it's here. It's now. It's among you.
Now, if the kingdom of God is a present reality, we can safely assume that hell is also a present reality. In fact, the word Jesus frequently used for "hell" was the term Gehenna. Gehenna was well known in the ancient city of Jerusalem as "the valley of the son of Hinnom." Within the valley was a place called Topheth, where people would sacrifice their children, thinking that God demanded this sacrificial violence. As the prophet Jeremiah explains, this hell on earth is a purely human creation and God had nothing to do with this hell. Jeremiah said about those who sacrifice their children, "And they go on building the high place of Topheth, which is in the valley of the son of Hinnom, to burn their sons and their daughters in the fire—which I did not command, nor did it come to my mind."
God doesn't command the fires of hell; it doesn't even come to God's mind! Who, then, does command those fires? We do! René Girard said it succinctly in his book The Scapegoat, "[We] create [our] own hell and help one another descend into it."
Hell is a place of suffering caused by spiritual, emotional, and physical violence. What does the kingdom of Heaven do when confronted with the violence of hell? The kingdom of Heaven goes straight into it.