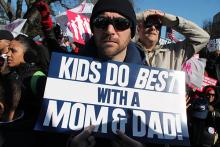 The same-sex marriage movement lost its first major case in a federal appeals court Thursday after a lengthy string of victories, creating a split among the nation's circuit courts that virtually guarantees review by the U.S. Supreme Court.
The 2-1 ruling from the Cincinnati-based 6th U.S. Circuit Court of Appeals reversed lower court rulings that had struck down gay marriage bans in Michigan, Ohio, Kentucky and Tennessee.
More important, it gives Supreme Court justices an appellate ruling that runs counter to four others from the 4th, 7th, 9th and 10th circuits. Those rulings struck down same-sex marriage bans in Virginia, Indiana, Wisconsin, Oklahoma, Utah, Idaho and Nevada, leading to similar action in neighboring states.
Circuit Judge Jeffrey Sutton, one of the Republican Party's most esteemed legal thinkers and writers, issued the 42-page decision precisely three months after hearing oral arguments in the cases, with fellow GOP nominee Deborah Cook concurring. He delivered a rare defeat for proponents of same-sex marriage, who had won nearly all the cases decided from Florida to Alaska since the Supreme Court ruled against the federal Defense of Marriage Act in June 2013.
Sutton argued that appellate judges' hands are tied by a one-sentence Supreme Court ruling from 1972, which "upheld the
right of the people of a state to define marriage as they see it." Last year's high court decision requiring the federal government to recognize legal same-sex marriages does not negate the earlier ruling as it applies to states where gay marriage is not legal, he said.