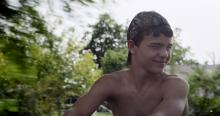 "God has to be busy with everyone else. And hopefully he will come into my life. I hope it happens. It's going to break my heart if it don't."
So says Andrew, one of the three teenage subjects of the documentary Rich Hill, currently playing in theaters across the country. While film refrains from any sermonizing on poverty, or any direct call to action from its audience, it's mighty hard for socially minded Christians to hear these words and not feel compelled to react. Tracy Droz Tragos and Andrew Droz Palermo's documentary is an unflinching portrait of poverty in rural America, and its sympathetic portrayals give heartbreaking examples of neighbors in need. 
The film follows a year in the lives of three boys: Andrew, Harley, and Appachey. They don't know each other, but they have much in common. Besides living in the small town of Rich Hill, Mo., all three come from troubled families living well below the poverty line. Andrew is the most hopeful of the group. He's got a family he loves, and a father who means well, but whose unrealistic dreams keep the family moving from place to place and dodging unpaid bills. Thirteen-year-old Appachey and 15-year-old Harley, however, come from darker situations. Harley is a victim of sexual abuse (his mother is in jail for attempting to kill the man responsible), while Appachey's violent behavioral issues are simply too much to handle for his single mom, overwhelmed with his siblings and a dilapidated house filled to the rafters with junk.