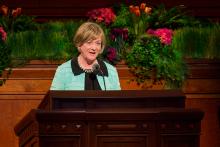 Installing Linda K. Burton, Bonnie L. Oscarson, and Rosemary M. Wixom to leadership councils could have far-reaching consequences in a denomination led exclusively by men.
When asked whether women are members of other key committees in the Church of Jesus Christ of Latter-day Saints, spokeswoman Kristen Howey said, "There are literally dozens of church committees. Women serve on many of them but we have no way of knowing that number without counting each of them."
The three principal, formerly male-only councils helping to run the 15 million-member faith include "four or five (male) general authorities," Howey said, plus the new female officers.