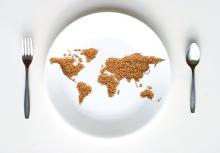 We have a vision.  
End extreme poverty by the year 2030. 
There has never been a time such as this. There has never been a time in human history where we have been more equipped to do more than just envision a world free of extreme poverty. The empirical evidence is there — extreme poverty can be ended within the next fifteen years. 
But first, we must commit. As a global community we must act guided by the best evidence of what works and what doesn't, and to use our voices to compel and challenge others to join us in this urgent cause inspired by our deepest spiritual values.   
This is a historic opportunity. The goal to end extreme poverty by 2030 is now possible when it hasn't really been before. But it will take all of us to accomplish it.