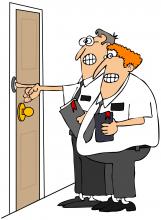 When I ask people to describe a typical "missionary," the usual response includes that of a young man with black pants and a white collared shirt (with a name tag attached) that knocks on doors, or perhaps an evangelical preacher who stands on (and shouts from) street corners, or possibly one who travels the far ends of the earth to help the poor and plant new churches. But just because some are more vocal and visible than others, such missionaries should not be acknowledged as the totality of all that exists, because:
All people in all places are missionaries, for all people in all places participate within a particular mission in some shape or form. Missionaries are as diverse as the human community itself.
While most missionaries do not self-define as such, the world is filled with them, many of whom serve with a high degree of commitment and faithfulness. For instance, if a missionary is – by definition – one who participates within a particular mission, then those who consume Coca-Cola are not merely consumers, but they are – by definition – missionaries of the Coca-Cola brand and its corporate mission. Similarly, there are countless political missionaries in all corners of the globe. As election cycles draw close, such missionaries multiply in mass numbers, and their energetic zeal often rivals – and sometimes far exceeds – the determination of many religious clergy labeled as extreme.
The world consists of countless missions and innumerable missionaries. As stated from the onset, all people in all places are missionaries, so not only should we hesitate to assume we know what a "typical missionary" is, we should also attempt to distinguish who a Christian missionary is to be within the context of countless other (complementary and competing) missions and missionaries. So what follows is a brief reflection on what the focus of God's mission might be, and an exploration of how Christian missionaries may be able to function as a result.