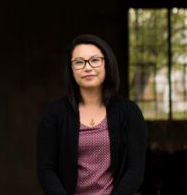 Mihee Kim-Kort is an ordained Presbyterian (PCUSA) minister with degrees in divinity and theology from Princeton Theological Seminary and English Literature and Religious Studies from the University of Colorado in beautiful Boulder. Currently she juggles various jobs including being a wife to another Presbyterian minister, raising three children, ministering to college students as the staff person for UKIRK @ IU, youth ministry on the side, itinerant preaching, writing, rabble-rousing in Bloomington, and liking too many posts on Facebook and admiring people on Twitter and Instagram.
Born in Seoul, Korea, she and her parents immigrated here shortly after her birth. Settling in Colorado, she was baptized in a – gasp! She's not a cradle Presbyterian – Methodist church before her family joined the local Korean Presbyterian (PCUSA) church. It was here that she learned the faith from an African American, who was a respected Elder and teacher in the church as well as a little old lady that was the wife of the former pastor of the white Presbyterian congregation that shared the building with our church.
During her undergraduate studies she skipped many classes to snowboard, checked out lectures from radical and interesting writers and teachers, and joined various Christian fellowship groups. It was during this time, and then in seminary that she began to experience a shift from traditional evangelicalism to a progressive, inclusive faith focused on God's Good News in the here and now as expressed through social justice.