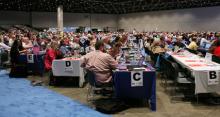 The Presbyterian Church (USA) voted Friday to divest church funds from three American companies it cited for profiting from the oppression of Palestinians within Israel's occupied territories.
The 310-303 vote of the church's General Assembly in Detroit marks a victory for divestment supporters both within and without the 1.8 million-member PCUSA, now the largest American church to embrace divestment as a strategy to pressure Israel to return its illegally held lands.
The divestment resolution targets companies that divestment supporters say supply electronic and earth-moving equipment that help Israel violate Palestinian rights. Presbyterians in support of the resolution described it as a long overdue stand on behalf of Palestinians suffering under the occupation, which began in 1967 when Israel pushed back attacks from neighboring countries.
The issue has roiled the church for the last decade, and during a more than three-hour debate, many lamented the divisiveness and noted how many around the world — in the U.S., Israel, and the Palestinian territories – would be watching.