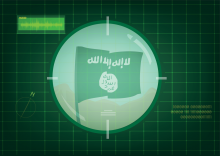 Here at Sojourners we have written a lot about nonviolence. We take seriously the words of Jesus that we should love our enemies and pray for those who persecute us. We believe that violence begets violence, or as Jesus put it, "Those who live by the sword die by the sword." Personally, I take seriously the words of René Girard, the founder of mimetic theory, that we are now "confronted with a perfectly straightforward and even scientifically calculable choice between total destruction and the total renunciation of violence."
Many Christians look to the Bible to justify divinely sanctioned violence against our enemies. Excuse me for stating the obvious, but Christians are not Biblians. We are Christians. As Christians, we should be putting Jesus first. Not Deuteronomy. Not Joshua. Not Judges. Not David. Not Solomon. Not Peter. Not Paul. Not the Bible.
Jesus first.
And Jesus calls us to nonviolence. As one of the early Christians stated, the way of Jesus, the way of nonviolent love that embraces our enemies, is the way of the cross and the world thinks that way is foolish.
We proclaim Christ crucified, a stumbling block to the Jews and foolishness to the Gentiles, but to those who are the called, both Jews and Greeks, Christ the power of God and the wisdom of God. For God's foolishness is wiser than human wisdom, and God's weakness is stronger than human strength.