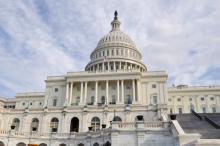 BALTIMORE — As Congress embarks on high-stakes budget negotiations to avoid the "fiscal cliff," leaders of the U.S. Conference of Catholic Bishops are warning elected officials not to target programs for the poor and instead raise taxes and reduce defense spending.
"In developing frameworks for future budgets, Congress should not rely on disproportionate cuts in essential services to poor persons," Bishop Stephen E. Blaire of Stockton, Calif., and Bishop Richard E. Pates of Des Moines, Iowa, wrote in a Nov. 13 letter to the House and Senate.
Blaire and Pates chair the bishops' committees on domestic and international issues, and the letter asks that "poverty-focused international assistance programs" also be spared because they are a small slice of the budget pie, are effective and enjoy bipartisan support.