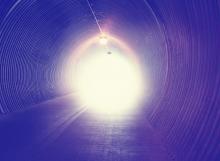 Everything must change.
Injustices around the world and here at home are coming to light despite a long, willful blindness. Half a world away, the long-muted voices of the victims of American military policy were allowed to break through the wall of propaganda and infotainment used to keep them hushed. A recent New York Times report reveals one of the worst-kept (actually un-kept, but vastly underreported) secrets of our government: that we often do not know who we are killing with drones.
And at home, in Baltimore, the death of Freddie Gray in police custody has caused long-simmering tensions – born of institutionalized segregation, nearly inescapable poverty, and a scourge of police brutality – to erupt in an uprising of passionate resistance, with destruction punctuating otherwise peaceful marches. Media coverage has given far more attention to the "riots" than to the systemic violence that has kept so many African Americans, not only in Baltimore but throughout the country, living in poverty and insecurity.