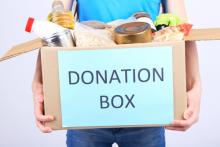 When confronted with the uncomfortable presence of so many relegated to the social margins of our society, we tend to shrink inward lest the enormity of life's injustices overwhelm us. When we hear of another shooting, we heighten our vigilance with our own kids. We do not allow them to take public transportation. We drop them off and pick them up with little time for them to wait aimlessly. We fill their days with activities we can monitor. We are overwhelmed. Sadly, we turn our backs on the child whose parents are absent or on the community conditions that allow the crime to continue. When we see a disheveled, animated person, we bristle, avert our eyes, rehearse our, "I don't have any money to give you today" response, or redirect our path to avoid them altogether. We are overwhelmed by social displacement. We do not know how to fix what is wrong. We feel inadequate. We experience dis-ease. But what if our overwhelmed, seemingly insignificant, and certainly inconvenient act is the very thing that will preserve life?  

As the Pharaoh's second in command in charge of administering the empire's grain silos during the famine, Joseph preserved life long before his brothers appeared before him. As the dream-interpreting, forward-planning Vizier of Egypt, Joseph had already saved the lives of many—the entire Egyptian community and all those who travelled there seeking relief from the famine in the land.  

Though his act of providing for his family seems magnanimous and extreme, as the Pharaoh's senior administrator, Joseph had the weight of the entire empire at his command. Relocating his family from impoverished Canaan to resource-rich Egypt was an important thing, but it was a small thing. Sometimes a relatively small thing preserves life. Sometimes preserving life is the change in your pocket, the attentive eye contact that assures another that you see and value their humanity, or the willingness to help another find the help they need. Preserving life may mean giving more than the change in your pocket, changing laws that devalue the humanity of others or leveraging your privilege to connect those who need care with care-givers. All to preserve the life of many.