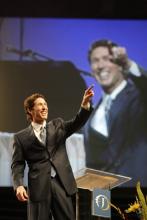 Six people were arrested at Lakewood Church June 28 after heckling Pastor Joel Osteen while he was preaching, according to Houston Police.
The individuals are from Wells, Texas, and are associated with The Church of Wells.
Casey Eaglin was at Sunday's 11 a.m. service and just a few seats away from one of the protesters.
"He jumped up with his Bible and started screaming 'Shame on you Joel, shame on you Joel' and Joel kind of just repeated Scripture and they just escorted them out," said Eaglin.