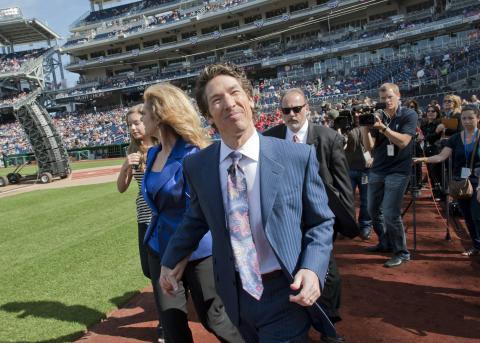 In an uncharacteristic move, televangelist and bestselling author Joel Osteen, senior pastor of Lakewood Church in Houston, Texas, stepped into the political arena briefly to talk about Alabama's House Bill 56, the strictest anti-illegal immigration legislation in the nation.
Osteen, who unlike many of his television compatriots, normally eschews entering into the political fray, was in Alabama last week for an event and during an interview with a Birmingham television station, a reporter asked him about having to choose between faith and breaking civil laws, in the context of HB56, which would make it illegal for undocumental immigrants to receive any public benefits at the state or local level, attend publicly-owned colleges or universities, transport, harbor, employ or rent property to undocumented immigrants in Alabama.
"The Bible tells us to help one another and to help those in need," Osteen said. "So ya know, I think it's a tough position to not be able to welcome people to our churches and we don't necessarily know who they are."