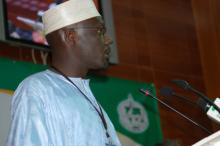 African religious leaders are appealing for an end to violence against Muslims in the Central African Republic as thousands flee to neighboring Chad and Cameroon.
In recent weeks, a pro-Christian militia known as anti-Balaka (or anti-machete) has killed and mutilated Muslims as they have tried to leave the capital Bangui by the truckload.
Muslims had enjoyed some protection when Michel Djotodia, the country's first interim Muslim president, was in power. Djotodia resigned under pressure in January and Catherine Samba-Panza was appointed the interim president.