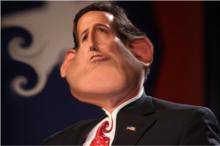 The results of the Iowa Caucus are in. Romney edged it out with 8 votes over Santorum. Ron Paul came in third and then Gingrich, Perry and Bachmann came in fourth, fifth and sixth respectively.
It's a stretch, but remember when Bachmann was the candidate to beat? How about Perry? Cain? Gingrich was just a few weeks ago. Ron Paul was at the top of the polls for a moment Iowa.
Santorum has now shot up in prominence with his close second finish but some observers are arguing that the only reason why he is up is that he hasn't been vetted yet. (On Wednesday, "Rick Santorum" was the second-most popular search on Google after "Iowa caucus.")
Why all of the ups and downs?