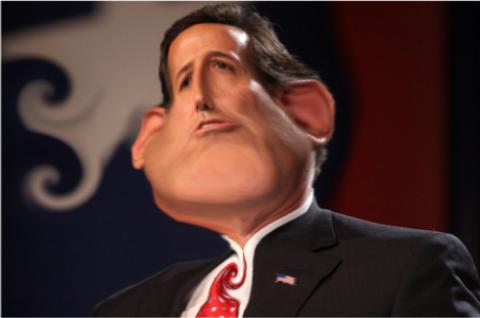 The results of the Iowa Caucus are in. Romney edged it out with 8 votes over Santorum. Ron Paul came in third and then Gingrich, Perry and Bachmann came in fourth, fifth and sixth respectively.
It's a stretch, but remember when Bachmann was the candidate to beat? How about Perry? Cain? Gingrich was just a few weeks ago. Ron Paul was at the top of the polls for a moment Iowa.
Santorum has now shot up in prominence with his close second finish but some observers are arguing that the only reason why he is up is that he hasn't been vetted yet. (On Wednesday, "Rick Santorum" was the second-most popular search on Google after "Iowa caucus.")
Why all of the ups and downs?
It seems that, by and large, familiarity breeds contempt or at least dampens enthusiasm. The primaries thus far seem to bear that out and the GOP is arguing that now that voters know President Obama better they will reject him in 2012.
Elections either distort or clarify our vision of the people who are running. It is entirely possible that they do both, albeit in very different ways. Two anaologies come to mind.
The first is that elections are like fun houses. The mirrors distort the viewer's perception of reality. The more mirrors, the greater the distortion grows. You can look at a candidate you like and find a mirror that makes their imperfections very very small and their better qualities very very big.
When it comes to the candidate you don't like, what would normally be only a minor flaw morphs into a giant apocalyptic failing that can only be compared to the traits of genocidal dictators. The good, is entirely invisible.
The second possibility is that the ugliness we are seeing is the true picture of Dorian Gray and no longer a magical façade.
What if the process of running for office is so broken that it is nearly impossible to go through it with your character intact?
Elections almost seem to necessitate selling (or at least offering) a candidate's soul to donors and bundlers. They also encourage leaders to make promises that cannot be kept, promises they never intend to keep or promises that they know they will have to keep but aren't a very good idea.
Now, there is a powerful segment of our country that benefits from making elections feel more like a reality TV show than a thoughtful decision-making process by citizens : The Media. While there is plenty of blame to go around, and certainly to be placed at the feet of media creatures and political pundits, I think it's an anemic scapegoat.
More than ever before people are able to choose where, when and how they get their information. Good information and competing perspectives that may help curb bias are readily available as antidotes or at least inoculations. I'm not saying there aren't big problems with the mainstream media but at least there are ample alternatives.
Ups and downs are a natural part of the democratic process. They demonstrate that people are willing to change their minds as they get new information or a different perspectives. That is a good thing.
But are the reasons people keep changing their mind substantive or merely sensational?
My guess is the dramatic nature of these swings is indicative of a sort of instability in our democratic system. It could be the media, the process itself or own funhouse mirror biases that are contributing to it.
Probably all three.
Tim King is Communications Director for Sojourners. Follow Tim on Twitter @TMKing.
Send Us a Note
Got something to say about what you're reading? We value your feedback!