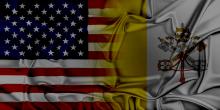 As the United States continues to navigate sensitive diplomatic channels with Cuba, Palestine, Russia, and Iran, an unlikely actor has emerged: Pope Francis.
In just a couple years, Pope Francis has managed to skillfully inject his unique brand of diplomacy onto the world stage. Yet with all diplomatic actions, only time will tell if Pope Francis' efforts at achieving a more peaceful world will be short lived or long-lasting. Unfortunately, some within the United States aren't content with allowing long-term diplomatic strategies develop, and have actively sought to undermine efforts to peacefully resolve differences among nations.
The nuclear deal with Iran is one such instance. After the nuclear deal between the United States, the United Kingdom, Russia, France, China, Germany, the European Union and Iran was made public on July 14th, Vatican spokesman Fr. Federico Lombardi SJ said in a statement, "The agreement on the Iranian nuclear program is viewed in a positive light by the Holy See."