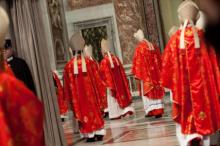 Pope Francis nominated 15 new cardinals Jan. 4 from 14 different nations but leaving several leading U.S. archbishops off the list.
Speaking to a crowd gathered in St. Peter's Square, the pontiff named each cardinal, noting they came from every continent and "show the indelible tie with the church of Rome to churches in the world."  At least three are from nations that have never had a church member in the role.
Five of the cardinals come from Europe, three from Asia, three from Latin America, and two each from Africa and Oceania. 
The nations of Cape Verde, Tonga, and Myanmar received their first cardinals ever, Vatican spokesman Fr. Federico Lombardi said in a statement.