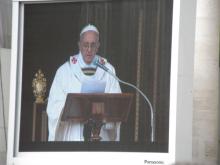 From the very first moment of his unexpected election as Pope Francis, Cardinal Jorge Bergoglio of Argentina has embraced a series of small departures from established tradition.
He took his papal name from a great nonconforming saint of the Middle Ages — and one that no other pope in the history of the Roman Catholic Church has taken. He then refused to stand on an elevated platform that would separate him from his "brother cardinals," and asked the people of Rome to bless him rather than receive his blessing. He even insisted on returning to his hotel to settle his account (as though his credit were in any doubt).
Everyone who knew Bergoglio saw in him an unconventional and even unpredictable figure. He lived in Buenos Aires in a modest apartment rather than in the archbishop's palace. He dispensed with a private limousine and took public transportation to work. He even cooked his own meals at home in his own kitchen.
Now, as pope, he has continued this pattern by ignoring long-settled traditions of what a pope should wear, where he should reside, and how he should conduct himself in public functions. Francis has chosen not wear the gold papal cross to which he is entitled, instead wearing the more simple cross he wore in Argentina. He also seems satisfied with normal men's footwear, avoiding the elegant red loafers Pope Benedict normally wore in public.