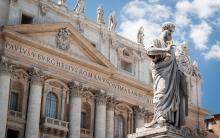 A European financial crimes watchdog on Dec. 15 called on the Vatican to prosecute those caught money laundering, stating the Holy See must act to ensure the success of its financial reforms.
"There is a need now for the anti-money laundering and counter terrorist financing system, to deliver effective results in terms of prosecutions, convictions and confiscation," said the report by the Council of Europe's Moneyval oversight agency.
Although the Holy See has adopted new legislation in recent years to tackle money laundering within the city-state, there have been no indictments or prosecutions as a result of the new rules.