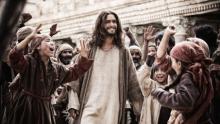 Christian leaders, including megachurch pastor Rick Warren, plan to rent every screen in numerous multiplex theaters across 10 cities for the premiere of Mark Burnett and Roma Downey's upcoming Jesus film Son of God, on Feb. 27.
The unusual move reflects the confidence Christian leaders have in Burnett and Downey's work in the wake of The Bible, a hit miniseries on the History channel.
The Son of God, an adaption from The Bible series, opens in theaters nationwide Feb. 28.