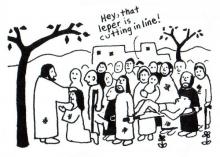 I have to say, one of my very favorite things about Jesus is how he does whatever he wants to and could really give a hell about how other people feel about it. Yeah. I just find that endearing — especially when he irritates the nice religious people. That's secretly my favorite.
In our Gospel text for today Jesus is teaching in the synagogue on a Sabbath when he sees a woman with a crippled back. He saw her, called her over and said "Woman you are set free from your ailment." He reached out and touched her and she stood upright for the first time in 18 years and praised God — which seems like a win. Except for that then the leader of the synagogue throws a little tizzy about how that kind of thing should not be happening on the Sabbath. Further proof that super religious people can just be so helpful, can't they?
Especially when they seem to value parameters over people – which should sound like a familiar story …
Stories of churches denying your call to ministry because you fall outside the parameters of which gender is allowed to be ordained and stories of churches denying you the Eucharist because you fall outside the parameters of what kind of sexual orientation is allowed to receive the means of grace and stories of churches denying you a place in community because you just weren't sure if you believed in God and that falls outside the parameters of doctrinal purity – well, these kind of stories are sadly bordering on cliché around here. We hear them all the time.