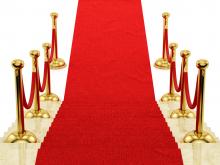 The biggest event of Hollywood industry has just wound down. The rich and glamorous have walked down the red carpet in their designer gowns, the famous people took home trophies, and the Oscars are over for another year.
It is a lot of fun to "ooh" and "aah" over celebrities. I love to dole out opinions on red carpet fashion choices and chuckle at Twitter making fun of Matthew McConaughey's facial hair. But overall, I think celebrity culture is quite unhealthy. Too much power and fame seems to corrupt even the best of us, and being in the spotlight for too long takes its toll on the human psyche. We should be fostering meaningful relationships with one another instead of developing a system that makes it possible for the celebrity to crave constant attention and for the crowd to follow blindly in an unthoughtful, mob-like fashion.
But because the system is already in place, this mechanism within culture to put people on pedestals for us to blindly adore — when Christians begin to share art and ideas publicly, we have seamlessly co-opted the same model to create a niche Christian celebrity culture.