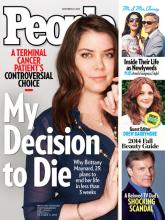 Brittany Maynard chose to die Nov. 1, but on what would have been her 30th birthday Nov. 19, her voice in support of the Right to Die movement rang loud.
Maynard, who had an aggressive brain tumor, was the face of Compassion & Choices, the advocacy group campaigning to legalize physician-assisted dying in all 50 states. She still is.
On her birthday, the group released a "call to action" video with passages and narration drawn from prerecorded videos with Maynard (pronounced MayNARD) and other advocates explaining why the right to die by legal prescription is important to them. It is now legal in Oregon, Washington, Montana, Vermont, and New Mexico.
In the video, Maynard concludes: "If there's one message to come away from everything that I've been through, it is no matter what life kind of presents you with, is never be afraid to use your own voice. And even if you are uncertain, even if your voice is shaking, ask the questions you want to ask, speak up for yourself. Advocate."