Death is the inevitable end to our lives and the lives of our loved ones. In the U.S., however, we often choose to ignore this reality until we are faced with our own death or the death of someone we are close to. Belinda Acosta documents her own experience with death and dying in "Holding On and Letting Go" (Sojourners, May 2014).
The following resources are for those experiencing death, dying, and grief or for those who desire to learn more about the process in order to live well.
ARTICLES
The Five Stages of Grief, by E. Ethelbert Miller

Grief in Community, by Ron Green

Reflections Along the Way of Terminal Illness, by Gordon C. Stewart

'God is Good. God is Great. Hope is Eternal:' Lessons in Life and Dying, by Phil Haslanger

Brian McLaren: Sorry Can Make Us Better, Not Bitter, by Brian McLaren

The Art of Dying, by Lisa Sowle Cahill
BOOKS
DOCUMENTARIES
Facing Death is comprised of interviews with death and dying researcher Elisabeth Kubler-Ross as she awaits her own death and reflects upon her life. First Run Features, 2007

Consider the Conversation: A Documentary on a Taboo Subject is a film by two friends about Americans' struggle with communicating and experiencing the end of life and how to practice life to the fullest in the here and now. Burning Hay Wagon Productions, LLC, 2011

Grief Walker is a movie by Harvard-educated theologian Stephen Jenkinson who teaches that death can and should teach us to live well. Alive Mind, 2012

The Gifts of Grief, a film by Nancee Sobonya, uses personal stories of people who have experienced grief to help others gain insights from their own loss and to find comfort. Shining Light Productions, 2005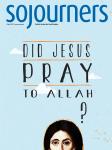 This appears in the May 2014 issue of Sojourners
Got something to say about what you're reading? We value your feedback!