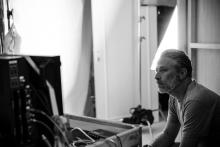 When Jon Stewart took a hiatus from The Daily Show a little over a year ago to film Rosewater, I'll admit, I, along with other loyal viewers, was intrigued but skeptical. I was already aware of the story of Maziar Bahari, an Iranian-born journalist for Newsweek who'd been imprisoned and tortured by Iranian officials for nearly four months, detained in part because he'd sat for an interview with The Daily Show's Jason Jones. But the rumors circulating that the film (based on Bahari's memoir) would be partly comedic seemed … risky. Far be it from me to question Stewart's satirical prowess, but films about political prisoners rarely leave room for laughter.
But of course, nobody needed to worry. Stewart's penchant for pointing out the absurd is what makes Rosewater unique among films of its kind. Where movies like Hunger focus on the brutality of imprisonment (and rightly so), Rosewater's goal is different. It sets out to explore the personality of people like Bahari's jailers, the Kafkaesque nature of life in Iran under Mahmoud Ahmadinejad, and the creativity it takes to survive in such a setting.
In the film, Bahari (Gael Garcia Bernal) leaves London, and his pregnant wife, to cover Iran's controversial 2009 presidential election. He meets and interviews Iranians working for Ahmadinejad's campaign, as well as those subverting the system and working for change — one scene has Bahari led up to an apartment roof covered with contraband satellite dishes. When there are accusations of fraud after the elections, followed by widespread protests, Bahari is arrested as a foreign spy. He's held in solitary confinement, and interrogated and tortured by a man known only as Rosewater (so named for the smell of his perfume).
While there are scenes of physical torture onscreen, the film doesn't show them in graphic detail — to the point where it almost feels that Stewart isn't going as deep with the subject matter as he could have. But it does something instead that feels far more important.