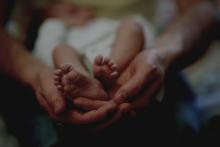 After five days in the hospital, filled with overwhelming joy, paralyzing fear, and complete exhaustion in the wake of the birth of our twins, I finally found a moment to walk outside the florescent lights and sit under the bright moon. Sitting on a small patch of grass outside the hospital doors, the reality of being a father to four kids finally hit me. I was both overwhelmed and overjoyed by the gift and responsibility of raising four kids in a world so desperately in need of mustard seeds of hope that one day blossom into healing and beauty.
So as I sit in relative comfort and begin to dream big dreams for my kids, I am struck by the reality that most fathers around the globe are forced to welcome their kids into a world where there is no "ladder" to climb because it has been knocked out from under them by broken systems that are breaking people. A world where many kids are born into families fleeing violent persecution and being nursed on the trauma of war in battered refugee camps — places where the thought of hope is a distant second to simply fighting to survive. A world where one's value is more closely associated with gender (male) than with the beautiful uniqueness inherent in every new life. 
But this is also a world pregnant with possibilities. A world where former enemies move beyond their past, share tables, and begin to imagine a future together. A world where the blossoms of new life begin to sprout in the shadowy corners of forgotten neighborhoods. A world where the diversity of God's kingdom begins to awaken our eyes and hearts to the new world God is making. 
It is in this world — a world both beautiful and broken — that I offer this prayer over my four kids.