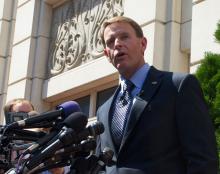 Family Research Council President Tony Perkins said Sept. 12 that conservative Christians are growing more enthusiastic about GOP presidential nominee Mitt Romney, and predicted they would show up at the polls in record numbers in November.
"When it comes to the values of family, values of faith, values of freedom, Mitt Romney is a clear choice, I think, for value voters across this country," Perkins said at a National Press Club luncheon two days before his organization kicks off its annual Values Voter Summit in Washington.

Perkins, a Southern Baptist, said evangelical Christians have "significant theological differences" with Romney, a Mormon, but he said the GOP nominee, if elected, would not be asked to head a national church.

"We don't want a national church. We want religious freedom," he said. "I think someone who has been a part of a persecuted religion is going to be even more sensitive to the issue of religious freedom."