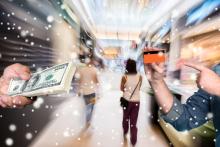 One of the dominant dogmas of the season seems to be both loud and clear: Our value as human beings is often dictated by our capacity to contribute toward economic growth.
This is what happens when Decemberism crucifies Christmas.
One may define "Decemberism" as a state in which the value of human life is determined exclusively by our personal rates of production and consumption. We notice this condition most often, of course, in December. Decemberism is the predominant religious tradition of the so-called "holiday shopping season," and the significance of Christmas is consistently crucified as a result. As Victor Lebow states:
"Our enormously productive economy … demands that we make consumption our way of life, that we convert the buying and use of goods into rituals, that we seek our spiritual satisfaction, our ego satisfaction, in consumption … we need things consumed, burned up, replaced and discarded at an ever-accelerating rate."
In striking contrast to the Christmas ramifications of God's incarnation, to be a human of any value in our current context is closely connected with supply and demand, even if it all leads to our personal and public self-destruction.