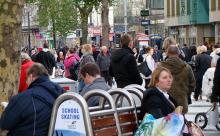 Five years ago, the Rev. Teresa K.M. Danieley had an epiphany of sorts. If people can grab breakfast on the go or pay a bill from their cell phone, she thought, why shouldn't they be able to get their ashes in a flash?
That's why, on Ash Wednesday 2007, Danieley planted herself in full priestly regalia at a busy intersection in St. Louis, smudging the sign of the cross on the foreheads of bicyclists, drivers and bus passengers.
This year, at least 49 Episcopal parishes across 12 states will offer ashes to passersby at train stations, bus stops and college campuses on Ash Wednesday (Feb. 22) as Danieley's "Ashes to Go" concept spreads nationwide.