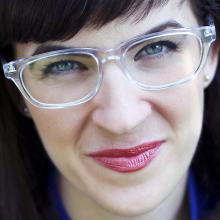 Nearly a year removed from the Church of Jesus Christ of Latter-day Saints, Ordain Women founder Kate Kelly says she has found happiness living a more authentic life while continuing to push for equality in the Mormon faith.
Kelly, who was excommunicated in June 2014, now lives in Nairobi, Kenya, where she works on human rights efforts. She was back in the United States briefly on April 23 as part of an offshoot project of the Tribeca Film Festival in New York City to explain how she was punished for speaking out for women's rights in the LDS faith.
"The men who (excommunicated me) literally think they kicked me out of heaven," Kelly said.
"Luckily, I do not think that. … Out of this experience, I've realized that men don't get to control my happiness. I've come out on the other end, (where) I think I'm much happier, much more authentic, a much more invigorated person."
Still, on stage at the Gotham Comedy Club, a space usually filled by raucous laughter, Kelly broke down in tears talking about her ouster from the LDS faith and the repercussions for herself and her family.
"It's like an execution, a spiritual death," Kelly said of Mormon excommunication.
"It's very, very extreme."
For their part, Kelly's Mormon leaders have said the door always is open to her return.