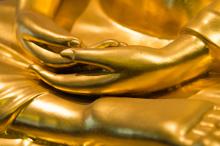 Could Christianity's future lie in Buddhism's past? This is a possibility that's been haunting me lately, but in a good way, I think.
One big critique, understandably, of postmodern views on Christian spirituality is that there's too much time and energy spent deconstructing old systems and ways of thinking that need to be torn down or reimagined, while lacking the same effort to build up something more helpful — more Christ-like — in its place.
This is true, and I'm as guilty of it as anyone. In my current spiritual practices as part of the current year I'm calling "My Jesus Project," I'm trying to more fully understand what we mean when we talk about following Jesus. So it might seems strange to some that I would look to Buddhism for help in rebuilding my daily walk along the path of Christ.
Author and monastic Thich Nhat Hanh wrote a book years ago called Living Buddha, Living Christ, that had a profound impact on me. At the time, I was "A-B-C," or "anything but Christian." I had been thrown out of my church of origin for asking too many questions, and up to that point, I assumed there was no way I could ever associate myself with Jesus or the Gospel again. Thankfully — if surprisingly — it was a Buddhist monk who reintroduced me to Jesus.  
In his book, he draws many parallels between the life, teaching, and practices of Jesus and those of Siddhartha Gautama, later known as The Buddha after achieving enlightenment. For Jesus, I imagine a similar experience of enlightenment coming to him during his monastic retreat into the desert. And as I seek my own moments of illumination during My Jesus Project, it occurs to me that Buddhism has much to teach us about where we might take Christianity in the 21st century.
No Ego
One of the greatest weaknesses of modern Christianity has been the focus on the individual. This comes more from our individualistic culture than from Christianity itself. Though we focus on personal (often translated as sexual) sin, the idea of sin within the Hebrew Bible was more corporate. There was more of an interdependent, tribal culture, and as such, so were the shortcomings. We've also focused too much on personal salvation or a "personal relationship with Jesus Christ," which has also led to such bastardized interpretations as the false gospel of personal prosperity.
In Buddhist practices, one must learn to let the self die, in a manner of speaking, in order to create a deeper, more meaningful relationship and interdependence with others and the rest of creation. This is actually more consistent with ancient Jewish and Christian thought than our modern, egocentric version of Christianity.