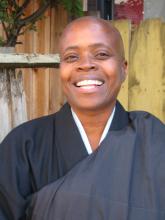 When Zenju Earthlyn Manuel goes to teach somewhere for the first time, she often sees surprise in the faces of the students as she is introduced.
She doesn't look like many of them expect. She isn't Asian. She isn't a man. And she isn't white.
And getting them to acknowledge that her body — her "manifestation," as she calls it — is different and a part of her experience is crucial to her teaching. If our bodies are sources of suffering, then we ignore them at our peril.
"When I have held and embraced who I am, how I am embodied, it has become a source of enlightenment, of freedom," she said from a sunny corner window seat in her living room. Draped in a black monk's jacket, she is a stark contrast to the white walls and white upholstery of the rest of the room.