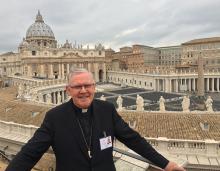 Barrels of ink, digital and real, have been spilled by journalists trying to convey the gravity of the high-stakes debate on church teaching in Rome this month, as the melodrama that a closed-door Vatican gathering of some 270 churchmen almost guarantees.
The synod, as it's called, has it all: steady leaks to the press, rumors of lavish dinners and reports of intense lobbying, plus open disagreements over doctrine. It's a steady diet of soap opera and theology, and almost too much for any reporter to keep up with.
Which is why, if you want to know what it's like to be a player in such an event, and in the extracurricular socializing where much of the work is done, you have to read the blog of Australian Archbishop Mark Coleridge.