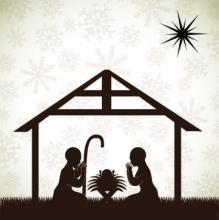 I'd say the moment is ripe for "Christ in Christmas" — the real Christ, of course, who shunned the privileged and aligned himself with sinners and outcasts, whose heart went out to sufferers like the homeless of Rome whom a new pope risks serving.
I'd say the moment is ripe for new life being born in stables and forced to flee the powerful and greedy. We have seen Mammon's insatiable maw, power's absolute corruption of the human soul, and thugs murdering the many in order to protect the few — and we know our need of something better.
So, yes, it's time for Christ in Christmas. Time for new life, time for hope, time for the faithful to say yes to God. Time for peace, not war. Time for repentance, not comfort at any cost. Time for justice and mercy and the even-handed goodness that God promised.
This, of course, isn't what zealots mean when they vow to "defend" the faith from a culture's "war on Christmas." They want a free-fire zone where moralizers can denounce all but the like-minded, and churches with huge budgets can frighten or seduce worshippers into donor mode. They mean using Jesus' name to impose the very cultural and political oppression that Jesus escaped once as a child but couldn't escape as an adult.