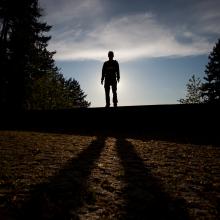 Paul teaches a bedrock unity in marriage. Both the Christian wife and husband are members of the Church which is Christ's body (v30) and have further cemented this with particular devotion to union with each other (v31). Since we have this fundamental unity, a divisive gender identity in marriage or elsewhere is impossible to accept—it sets up barriers where Christ recognizes none.
As such, men inside or outside of marriage must follow Christ's example in giving of themselves for others, particularly to those who rely and trust on them. This is why domestic violence is such a satanic perversion of masculinity: it replaces a protective, self-sacrificial love with a violent, domineering authority. A relationship which should point to Christ and the Church instead becomes controlled by power and violence.
Paul forces me to think differently about what it means to be a man. I need to reorient my actions in a way that recognizes that Christians, male and female, are all part of one body of Christ. That should push men, especially those in positions of authority, to a love that seeks to build up and to serve rather than domineer. That love, rather than a macho authority, is the true mark of a man.