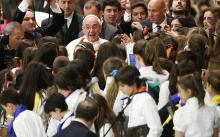 Figuring out why Pope Francis has upended so many expectations and what he might be contemplating for the future of the Catholic Church has become a parlor game almost as popular as the pontiff himself.
A single key can unlock these questions: Francis' long-standing identity as a Jesuit priest.
It's an all-encompassing personal and professional definition that the former Cardinal Jorge Bergoglio brought with him from Buenos Aires, and one that continues to shape almost everything he does as pope — even though he is the first pontiff to take his name from the 13th century Italian monk from Assisi who was famous for living with the poor and preaching to the animals.
"He may act like a Franciscan but he thinks like a Jesuit," quipped the Rev. Thomas Reese, a fellow Jesuit who is a columnist for National Catholic Reporter.