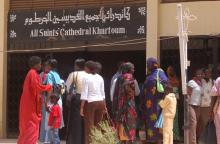 Sudanese authorities have detained 10 Christian students on a charge of indecent dressing, a criminal offense, after they wore miniskirts and trousers to church.
The young women were arrested last month in front of the Evangelical Baptist Church in the war-torn Nuba Mountains region in South Kordofan.
The girls, ages 17 to 23, had attended a ceremony at the church.
Police charged 12 women under Sudan's 1991 Criminal Act, but two were released. The rest are to appear in court in coming days. If convicted, each will face 40 lashes.