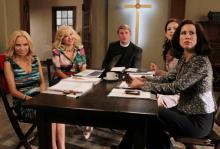 Many TV network executives, advertisers and producers would sell their souls to get the kind of audience God has. But giving religion a starring role in prime time? Not so much.
Religion, God and spirituality have made cameos across the dial from "The Sopranos" to "The Simpsons" -- though usually as a prop or walk-on role. But shows where religion is a central part of the premise are rare, and the ratings are generally far from heavenly.
Short of touchy-feely shows like "Touched By an Angel" or "Highway to Heaven," why is religion so radioactive in Hollywood?
This month, cable network TLC canceled "All-American Muslim" after only about 700,000 viewers watched the season finale of the reality show featuring Muslims in Dearborn, Mich.
Meanwhile, ABC's saucy new drama "GCB" -- think "Desperate Housewives" in choir robes -- that's based on Kim Gatlin's novel "Good Christian Bitches" has been panned by critics and called "anti-Christian" by Newt Gingrich. The "GCB" premiere on March 4 lost the coveted 18-49 demographic, but climbed back during its sophomore episode.