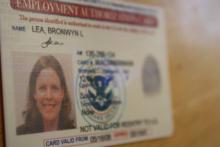 I am a card-carrying alien. Literally.
I have an official alien number, assigned to me by the United States Citizenship and Immigration Service.
After nearly 10 years in the U.S., my husband and I have spent hundreds of hours and thousands of dollars on paperwork and travel to keep our visas current. We have been retina scanned and fingerprinted; we have submitted exhausting and exhaustive records of every job we've ever held, every school we ever studied at, and the names and addresses of every person we are related to.
Now, with three children born in the U.S. (call them anchor babies if you must), we don't want alien cards anymore. We want green cards. We want to be allowed to stay permanently in the country where our children are, without fear that we will find ourselves with no legal purchase in the country where our kids live.
But applying for permanent residency is a lot tougher than you might think.