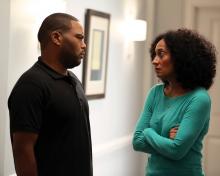 Black-ish, the new ABC sitcom created by Kenya Barris, really is one of the funniest shows on TV this season. I laughed my head off watching a marathon run of the first four episodes On Demand. Now it's set to record each week on DVR. One of the things I really appreciate about Black-ish is that it takes universal issues and works them out through a genuinely African-American lens.
For example, in the pilot episode the father, Andre "Dre" Johnson, played by Anthony Anderson, is looking forward to a much deserved promotion to Senior VP at a major marketing firm. He is surprised to find out he's been promoted to Senior VP of the Urban Division. We can all relate to wanting the promotion, but Anderson's challenge is one particularly familiar within the black professional class. How do you jump the dreaded, yet anticipated, pigeonholing of your value and worth to an organization as a "black" person? How do you become just Senior VP — not SVP of the "Urban" Division? How do you become human? The way Anderson works out this challenge is hilarious. I rolled with laughter even after the half-hour sitcom had reached its conclusion.
And then there's last week's episode when the biracial mother, Rainbow, masterfully played by Tracee Ellis Ross, loses her young son, Jack, while shopping at a department store. It turns out Jack is hiding inside a clothes rack and is eventually found by a sympathetic officer. We can all relate to this situation. Children hide in department stores. I did the exact same thing to my own mother when I was about Jack's age. I hid between the racks at a Marshalls. But Rainbow and Dre's conundrum rears its head when they are confronted with the question: Will they spank their son? It seems simple enough, but it's not. This is not only a question of parenting, it is also a question of tradition and culture.
In fact, each episode presents a universal situation that pushes a particular issue of culture within the African-American community. Ultimately, the situation presses the question: "What does it means to be black?"