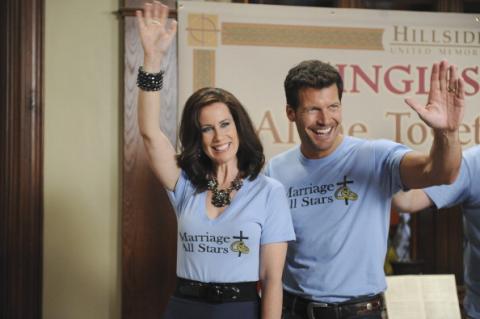 Over the weekend, Newt Gingrich decided to wade into a minor cultural skirmish by claiming that the new ABC dramedy GCB is an attack on faith fueled by anti-Christian bias.
As Gingrich is, from my perspective at least, prone to flights of intellectual fancy, I was at first prone to roll my eyes and ignore his latest sojourn into the ridiculous. But upon further reflection, I thought it merited a response because his notion that a satire could be the latest cannon fodder in the alleged war on religion (which usually means "war on Christianity" to those who invoke it) speaks to a larger cultural conundrum: Christians and our sense of humor (or, rather, the lack thereof.)
I can understand Gingrich, whose name, from time to time, has been the punch-line for late-night-talk-show-host monologues, being a wee bit sensitive about standing on the wrong side of a joke. And yet, as he has spent his adult life in the glare of the public spotlight, one might assume his hide would have been a bit tougher by now.
But this isn't really about Gingrich. It's about those "Good Christian Belles" (nee "Bitches") aka the characters on the most-recently-renamed GCB (by nervous network executives) and whether they are primetime assassins with perfectly-manicured fingers poised on the trigger of cultural Kalashnikovs aimed at Christ and his Church.
I think not.
When I heard the first rumblings of discontent from conservative and "family values" groups about GCB last year — when the show was first announced and long before it hit the airways last month — the criticisms seemed to be largely semantic. Not many of us like the "b word" as it is coarse and unkind, a label most women I know would neither self-apply nor wish upon their sisters.
The secondary push back seemed to be about the word "Christian," with arguments, much like the one made by Gingrich over the weekend, complaining that no television show with a similar "Muslim" or "Jewish" modifier would ever see the light of day.
Christians are being targeted unfairly, the critics whinge.
Well, we are a big target and not necessarily an unmerited one.
See the thing is, if satire, such as GCB, weren't highlighting exceptions to the rule, i.e. Christians aren't supposed to act like mean girls or backstabbing harpies, it wouldn't be funny. It wouldn't be comedy.
GCB's humor isn't aimed at Jesus or at Christianity. The butt of its jokes are Christians behaving badly — those who don't walk as Jesus did and who are decidedly not known by their love.
Fair game, I say.
We Christians could learn a thing of two from our Jewish brothers and sisters about not taking ourselves so seriously all the time. We'd do well to embrace the humor rather than protest it.
When those of us who are not behaving as folks who claim to be followers of Jesus are commanded to, we should expect to be maligned and mocked. To my ear, satire of this kind speaks to comedy writers who have a more accurate understanding of the Gospel and what Christianity is meant to be than we give them credit for — not the opposite.
On GCB, Broadway darling Kristin Chenoweth portrays the meanest of the mean girls, Sunday School-teacher Marlene. In a recent interview with NPR, Chenoweth, who was reared in the Southern Baptist Church in her native Broken Arrow, Oklahoma and remains an outspoken and unapologetic Christian, talked about faith and the controversy surrounding her new show.
"You know, when you say you grow up in church and in the Bible Belt, that kind of gives a stigma that some people may like or dislike," Chenoweth told All Things Considered host Jacki Lyden. "But I'm very proud of my upbringing, and I wouldn't have traded it for the world. Nowadays, though, saying that you're a Christian, there's a lot of people who look at that in a negative light, which breaks my heart.
"I very proudly am a Christian, and I am a God person," she continued. "Church and being around people [who believe] how I believe is important. But it's also important for me to show others that don't have any faith, or don't believe like me, that I accept them and don't judge them. … It's not my job to decide whether someone is a sinner for doing something or being something or saying something. You know, my grandma said, 'Oh, Kris, I read the Bible like I eat fish. I take the meat that serves me well, but I don't choke on a bone.' I loved that, and I've never forgotten it."
As for the controversy surrounding GCB, beginning with its very name, Chenoweth, who started singing in her church as a child and had her first big break years ago performing the song "Four-feet Eleven" at the Southern Baptist Convention's national conference, isn't choking on any bones.
"There has been a lot of controversy I know, by certain groups that are saying we are making fun of God. And that hurts me because I'm a Christian, and I wouldn't do that," she said."I will say there's a big difference to me in making fun of something and having fun with something, and we do the latter. And I think … it's just chocolate cake. It's just dessert; that's all it is."
Now, how could dessert be a weapon against anything or anyone?
I'm fairly certain Jesus is threatened neither by comedy nor Death by Chocolate. So why should we?
Cathleen Falsani is Web Editor and Director of New Media for Sojourners. She is the author of four nonfiction books, including the memoir Sin Boldly: A Field Guide for Grace, and her latest, BELIEBER!: Fame, Faith and the Heart of Justin Bieber. Follow Cathleen on Twitter @GodGrrl