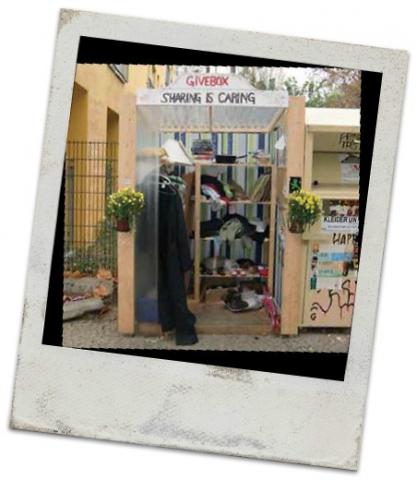 Something called a GiveBox appeared
this fall on Falckensteinstrasse, and my first gift
was a memory: Dorothy Day, decades ago,
gently quoting St. Basil to me: If you have two coats,
you've stolen one from the poor.
Like a walk-in cupboard on the sidewalk, brightly
painted, decked out with flowers, this GiveBox
is for the anonymous exchange of gifts.
I brought books here and found a biography of Tolstoy,
who once made my teen-aged self dream of giving away
everything, and now, over a whiskey,
the idea returns: what if I stripped myself
of all but the necessary, left things off, day by day,
at the GiveBox? Of course, whatever his genius,
Tolstoy's life ended in confusion,
in quarrels, in flight—did he really think,
at 82, he could dispossess
himself and set off wandering? When his body
was brought home, it was buried
in the place of the green wand,
the glade where his twelve-year-old brother
once told a story about a stick hidden in the earth
that, if found, would bring lasting happiness to us all.
As though, having all but rejected his own novels,
he could dispense with everything
but story—Tolstoy wanted no tombstone,
no service, no clergy, and after all he had written
it was the legend his brother made up that he turned to.
A parable Dorothy Day, who lived to 83,
took seriously until the end.
I met her in my teens when she was in her 70s,
just out of jail after picketing for the rights
of migrants. Visiting a nephew who was dating my sister,
she joined us for dinner—someday, someone may ask me
the old question,If you could have a meal
with anyone, living or dead … Going to a French restaurant
with Dorothy Day would be a good answer,
and I was lucky enough to actually do it,
only I wasn't allowed in the restaurant.
Because I'd read Gandhi, who of course
had read Tolstoy, I was trying not to buy leather
and wore a rope belt, and canvas shoes.
And Dorothy, who had reason enough
to scoff at those who called her a saint,
rose to the height of a prophet
and let the restaurant know she expected
so much more of them than their dress code.
In an Italian restaurant down the block
she introduced me to bruschetta pomodoro,
then spoke of so many things
I wish I could begin to recall now.
What was it that boy in his canvas shoes
was searching for? Isn't it time for me
to set off at last for the place of the green wand?
Theodre Deepe's most recent poetry collection is Orpheus on the Red Line. He lives in Connemara, Ireland, with his wife, poet Annie Deppe.