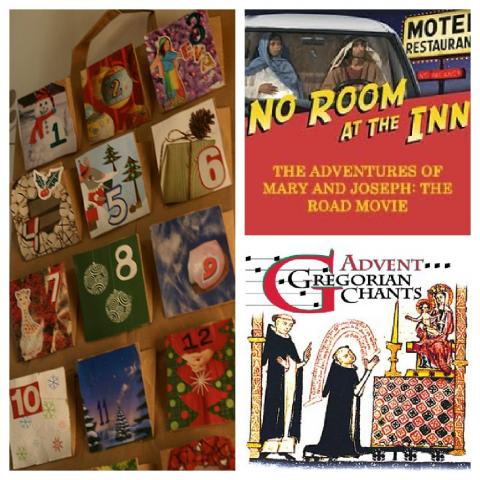 All the holiday hustle and bustle—the endless Christmas cards, shopping lists, and gratuitous feasting—can become a less-than-spiritual experience that leaves a bad taste in your mouth. But Donna Schaper's commentary "Pregnant with Possibility" in the December 2012 issue of Sojourners invites us to celebrate Advent in a way that marinates us with hope and possibility as we prepare to savor Christ's arrival.
Find your center during this busy holiday season with our top 10 Advent resources:
 The Adventures of Mary and Joseph: The Road Movie, by Jerusalem Productions and BRF, delivers a quirky, contemporary, and entertaining retelling of the birth of Christ based on the gospel of Luke. Consisting of nine short episodes, this digital film is sure to delight and dazzle all ages.
 
Buy Nothing Christmas, a Canadian project with Mennonite roots, takes alternative giving to another level with its Buy Nothing Catalogue. "Come discover what you already have" by sending or creating one of-a-kind gifts to your loved ones—at no cost.
 
Clergy, worship leaders, and peacemakers alike will enjoy the plethora of resources compiled and created by The World Council of Churches. Plan your Advent services with this collection of meditations, songs, prayers, and worship outlines.
 
A Catholic Family Advent: Prayers and Activities (Franciscan Media, 2012), by Susan Hines-Brigger, provides daily scriptures, reflections, prayers, and ideas for charitable activities to help Catholic families connect with the real message of Christmas.
 
Slow down, breathe deeply, and meditate on the coming of Christ with Gregorian Chants: Advent & Christmas. Your spirit will be captivated and renewed listening to this ancient music performed by Capella Gregoriana.
 
Looking for the perfect gift that's also socially responsible? Subscribe to Sojourners' "Just Giving Guide" email newsletter and you'll receive one great gift idea—and special coupon codes and offers, starting November 19. Plus get 20% off at the SojoStore just for registering. Sign up today at Sojo.net/JustGiving.
 
The booklet Preparing for Christmas: Daily Meditations for Advent (Franciscan Media, 2012), by Richard Rohr, does not linger in sentimental yearning for the baby Jesus, but rather invites readers to reflect on "an adult and social appreciation" of the Incarnation.
 
Round out your holiday festivities and spiritual practices with an Advent calendar. DIY (Do It Yourself) enthusiasts can check out the Christian blog Keeper of the Home for tips on creating homemade Advent calendars.
 
God Is in the Manger: Reflections on Advent and Christmas (Westminster John Knox Press, 2012) draws from German theologian Dietrich Bonhoeffer's writings in daily devotions for the four weeks of Advent through Epiphany. This short book includes scripture passages and additional material, much of it drawn from Bonhoeffer's letters while imprisoned in Nazi Germany.
 
The website Fridge Art provides hands-on liturgical fun for all. Bring some Advent cheer to your home with these family-centered crafts and activities.
Julie Polter is associate editor of Sojourners. Elaina Ramsey is assistant editor of Sojourners.