Director of Individual Giving
Beth Cooper-Chrismon has been a part of the Sojourners community since April 2015, serving first as Donor Services Associate and Database Administrator, then as Director of Individual Giving. Previously, she spent a year and a half as a major donor prospect researcher, primarily working with military, memorial, and museum clients.
She is a graduate of Georgetown University's Walsh School of Foreign Service, where her studies focused on the role of religion in 20th century Middle Eastern-European relations. While attending Georgetown, she enrolled in one of Jim Wallis' courses, and this experience led her to seek out further involvement in Sojourners' mission, ministry, and advocacy.
As a cradle Episcopalian, and as the daughter of a nonprofit executive and a church musician, Beth has always been both interested and involved in the intersections of religion and social justice. And as the graduate of a Jesuit university, Beth strives to be a "woman for others" in her life and work, integrating her faith and personal mission into her work at Sojourners.
While Beth has lived in the DC metropolitan area since 2010, her heart will always belong to her home state of Montana. (Don't get Beth started on Montana, The Last Best Place, The Treasure State, Big Sky Country, Land of Shining Mountains, etc.) In her spare time, she enjoys running, hiking, singing, knitting, dark beer/comedy/coffee, listening to podcasts, teaching herself about personality psychology, and shredding some serious Angus Young-style air guitar.
Posts By This Author
I Gave Up Social Media For Lent, and I'm Here to Tell You: That Was a Great Choice
03-28-2018
May this insight be useful to you all. And may you feel minimally conflicted when you share it on Facebook.
The Oppressive Whiteness of Taylor Swift's 'Wildest Dreams'
09-04-2015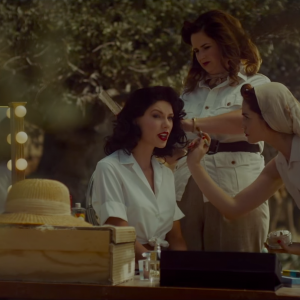 Taylor Swift's controversial new music video, "Wildest Dreams," is intended to evoke awe of the "wildest" of African landscapes: pure natural beauty, "undiscovered" and "untarnished" — and entirely without Africans.
Perhaps because this video launched soon after Ms. Swift's recent race- and privilege-related feud with Nicki Minaj, or because at the time of writing, the video has reached nearly 25 million views since its release on Aug. 30, response to the video has been intense. Reading articles on both sides was a conflicting experience, as a young white woman raised on fashion magazines, classic cinema, and the idealization of "old Hollywood." Can we love and appreciate those films without endorsing that oppression? Is it possible to create an homage to them without endorsing them entirely? In short — how can we free ourselves from the cognitive dissonance of outwardly condemning racism, misogyny, and colonialism while still internally glorifying images and ideals that are built upon them?
The answer to this question may lie in other, more nuanced, portrayals of midcentury American culture.