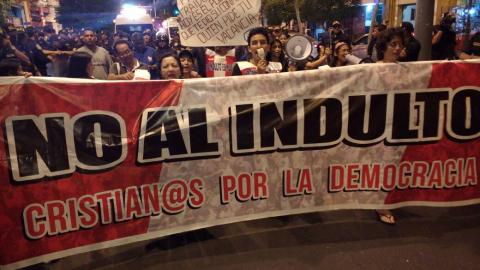 On Feb. 1, dozens of international evangelical leaders signed a letter in response to the pardoning of former Peruvian dictator Alberto Fujimori, who had been sentenced to 25 years in prison for extrajudicial killings and other crimes against humanity.
Current Peruvian President Pedro Pablo Kuczynski approved Fujimori's medical pardon on Dec. 24, 2017. Kuczynski, who is also facing his own possible removal from Peru's Congress, described it as a "humanitarian pardon." Many accused Kuczynski of using the pardon as a reward for the support of Fujimori's son, Kenji, who helped Kuczynski survive an impeachment vote the week before the pardon was announced.

In response to the pardon, thousands of Peruvians marched in Lima in protest of the pardon. Groups such as Amnesty International and Human Rights Watch have condemned the pardon.

"Any pardon or other politically motivated release of Fujimori would be a slap in the face to victims of atrocities in Peru and a major setback for the rule of law in the country," José Miguel Vivanco, director of Human Rights Watch's Americas division, said.
More than 30 faith leaders, including Rev. Milton Mejía, the General Secretary of the Latin American Council of Churches (CLAI), and Rev. Valdir França, coordinator for mission partnerships in Latin America and the Caribbean for the U.S.A. Presbyterian Church, signed the letter, calling for "true process of reconciliation based on justice, truth and respect for the dignity of all Peruvians, in particular the people and families who suffered the insanity of terror and violence."
We express our deep concern that the improper granting of the pardon to Mr. Alberto Fujimori has caused not only a political crisis but also a setback in the process of an authentic reconciliation that allows for the healing of wounds and an integral reparation of the victims.

We believe that this pardon does not contribute to the process of national reconciliation because it turns its back on the victims and because it is the product of apparent pact of impunity. We believe that without sincere repentance and without meeting the expectation of justice and reparation for those whose rights were trampled an authentic reconciliation cannot exist and cannot be achieved.
Read the full letter here.
Send Us a Note
Got something to say about what you're reading? We value your feedback!