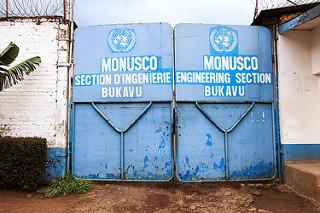 At least 14 United Nations peacekeepers were killed and 53 wounded in a rebel raid attack on a base in Congo on Dec. 8, according to the UN News Centre.
At least five other Congolese soldiers were killed. The Allied Democratic Forces (ADF), a Ugandan rebel group, is highly suspected of having carried out the attack.
U.N. Secretary-General Antonio Guterres condemned the assault in a statement, describing it as "the worst attack on UN peacekeepers in the Organization's recent history."
Congo is home to the largest and most expensive U.N. peacekeeping mission in the world. Eastern Congo is especially known to be plagued with violence, hunger, and internal displacement since Hutu forces from Rwanda crossed the border in the aftermath of the 1994 Rwandan genocide.
Since the U.N. mission in Congo launched in 1999, almost 300 peacekeepers have been killed, with the presence of rebel groups becoming commonplace.
The UN News Centre reports:
Late Thursday, a MONUSCO (the UN Stabilization Mission in the DRC) Company Operating Base at Semuliki in Beni territory, North Kivu, was attacked by suspected Allied Democratic Forces (ADF) elements, resulting in a protracted fighting between the suspected armed group elements and MONUSCO and Armed Forces of the DRC, known by the French acronym, FARDC.
Earlier this year, two U.N. experts and their Congolese interpreter were found dead in south-central Congo.
"These deliberate attacks against UN peacekeepers are unacceptable and constitute a war crime," Guterres said. "I call on the DRC authorities to investigate this incident and swiftly bring the perpetrators to justice. There must be no impunity for such assaults, here or anywhere else."
The U.N.'s Under-Secretary-General for Peacekeeping Jean-Pierre Lacroix stated MONUSCO had enhanced its activities in an effort to protect civilians in response to increasing turmoil in the area.
"They don't want us there. And I think this attack is a response ... to our increasingly robust posture in that region," he said.
Reuters reporting contributed to this piece.