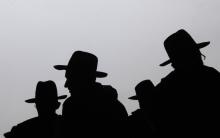 Women who would be Orthodox rabbis were handed a major setback Oct. 30 when the highest religious body for Modern Orthodox Jews ruled against their ordination.
The Rabbinical Council of America officially prohibited the ordination of women, or the use of the term "rabbi" or "maharat" for women, in what it described as a direct vote of its membership.
The prohibition comes six years after the founding of a yeshiva, or religious school, for women in New York City. The school, Yeshivat Maharat, has ordained less than a dozen women who use the honorific "maharat" instead of rabbi and has placed graduates and interns at 17 Orthodox synagogues in the U.S. and Canada.