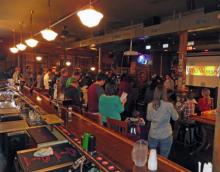 Turning part of the message over to church members is the concept behind a new worship model called WikiWorship.
Yes, that's wiki as in Wikipedia.
It was developed by the Rev. Philip Chryst, pastor of a United Methodist mission in Wilmington, as part of an evangelism course when he was finishing his degree at Duke Divinity School. He's using it as part of a Lenten series at 9:45 a.m. each Sunday through April 13 in the bar called Hell's Kitchen.
The week before each WikiWorship, participants submit questions on religion, ethics, life, or God via the mission's website. Then Chryst chooses one to spur discussion at each service.